Is US now stuck with irrational pessimism?
In some ways, today's swoon looks like the flip side of 1996's 'exuberance.'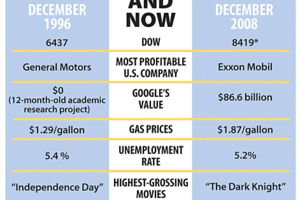 SOURCES: Dow Jones Indexes, Fortune Magazine, Yahoo! Finance, Energy Information Administration, Internet Movie Database, Variety, Bureau of Labor Statistics, Department of Labor, Project Vote Smart/R
Twelve years ago tomorrow, Federal Reserve Board chairman Alan Greenspan famously chalked up the boom in stock markets to "irrational exuberance."
Now, with the US stuck in one of the worst bear markets in postwar history, the opposite seems to be true. Since Sept. 15, the Dow Jones Industrial Average has closed down more than 500 points on seven separate occasions. Two weeks ago, the averages were down nearly half from their peak. Brokers report thousands of Americans are closing their accounts, fed up with a market that has made their 401(k) accounts look like 201(k)s.
So is this the era of irrational pessimism? It's a hard question because there are so many uncertainties surrounding the future direction of the economy and consequently the direction of corporate earnings. If the economy spirals down next year, today's stock prices may look reasonable. If the economy's landing is softer, perhaps the pessimism is overdone.
"No doubt there is a lot of pessimism," says Fred Dickson, chief market strategist at D.A. Davidson & Co. in Lake Oswego, Ore. "The jury is still out if it's irrational."
One thing is clear: It's the era of uncertainty.
---