The vanishing 9-to-5 job
Fewer workers have steady weekday schedules, posing challenges on the job and at home.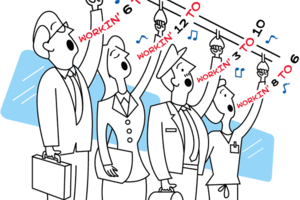 Scott Wallace
Sheila Mae Vogel-Miller has learned a lot about flexibility during her four years as a certified nursing assistant at a hospital in Hot Springs, Mont.
"I've worked about every shift you can imagine," says Mrs. Vogel-Miller. "When people quit or go on maternity leave, we get moved around."
That kind of unpredictable moving around from shift to shift – days, evenings, nights, weekends – is becoming more common as companies look for ways to cut labor costs. In a 24/7 world, finding a steady 9-to-5, Monday-to-Friday schedule poses a growing challenge for workers in healthcare, retail, hospitality, transportation, and financial services. Shifts, days, and even the number of hours change, often with little notice.
"Employers increasingly demand flexibility," says Julia Henly, a social-work professor at the University of Chicago. "Open availability is often a key qualification more than education."
Forty percent of employees in the United States work the majority of their hours outside standard daytime schedules, Professor Henly says. That produces consequences at home.
"Parents spend fewer hours with their families, and it's hard to attend school activities," says Henly. "Family budgeting is also hard, because nobody guarantees a certain number of hours. It's common to be sent home early or be asked to stay longer."
---