New ads: battle of the brands
More companies go negative to grab consumers. Why it might backfire.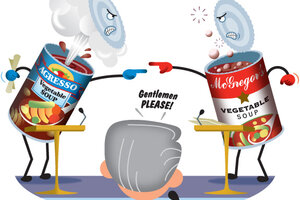 Scott Wallace - staff
Burger King's new taste tests may strike McDonald's as, well, tasteless. In the TV ads, a camera crew travels to Thailand, Romania, and Greenland where indigenous people who have purportedly never eaten a hamburger are asked to compare a Whopper with a Big Mac. Of course, Burger King's product scores better than that of its golden arch rival.
The "Whopper Virgins" commercials, which have drawn ire from some commentators for presenting its tasters as "noble savages," is one of several current ad campaigns in which one company aggressively targets a competitor.
Examples abound: A Dunkin' Donuts taste-test campaign includes taunts such as "Friends don't let friends drink Starbucks;" Verizon Fios portrays Time Warner's cable guy as a dour sad sack; and Campbell's Select Harvest pillories Progresso for including monosodium glutamate, or MSG, in its soup.
---