Company celebrations more muted this year
Potluck dinners and charitable donations replace traditional holiday parties.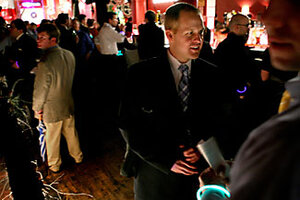 Craig Ruttle/AP
This Christmas, the offices of RLM Public Relations won't deck its halls with boughs of holly. In stark contrast to last December, when employees opened gifts during a catered Christmas lunch, the New York firm has canceled its annual party. In this tough economy, CEO Richard Laermer feels more companies should follow suit.
"I think a lot of people are trying to keep the Christmas spirit alive, and I appreciate that, but this is not a downturn. It's a financial crisis," says Mr. Laermer, who recently had to cut his staff from 19 people to 15. "They have Christmas parties and then they lay people off. So where was the money for the Christmas party?"
A good number of businesses are ditching their annual holiday bash this year. But the overall decline is relatively mild. Most companies are choosing to uphold the tradition, albeit in more modest fashion than in years past.
"It appears that while employers do want to express their gratitude by providing some sort of party, they may be mitigating the costs somewhat by limiting it to employees only," says Matt Sottong, director of an annual survey of corporate holiday traditions by the Bureau of National Affairs.
---