Obama pushes to redirect bailout
He aims to expand access to the remaining $350 billion in TARP funding.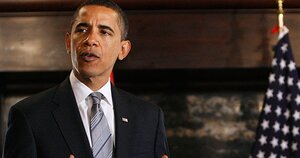 Charles Dharapak/AP
Coming soon to the US Treasury: a financial rescue effort that's closely controlled by government regulators and is aimed at homeowners, small businesses, and auto buyers, as well as banks.
That's what incoming Obama administration officials are telling Congress, anyway, as they push for lawmakers to release the second half of the $700 billion bailout fund approved in October. In essence, the Obama team is trying to reboot and rebrand an effort that many Democrats have criticized as too secretive and too focused on helping Wall Street.
Critics of the way the bailout has been run so far "want to make sure the money gets to people and does something," says Connel Fullenkamp, an associate professor of economics at Duke University in Durham, N.C.
On Jan. 12, on behalf of President-elect Obama, President Bush asked Congress for access to the remaining $350 billion of the cash lawmakers authorized for the Troubled Asset Relief Program (TARP). It indicates that Mr. Obama may be worried about more trouble in US credit markets.
"It is clear that the financial system, although improved from where it was in September, is still fragile," Obama said Jan. 12.
---