US economic crisis puts youth corps at risk
While Obama urges expanding conservation corps, cash-strapped states such as California mull cutbacks.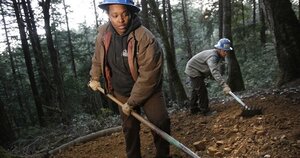 Tony Avelar/Staff
It's a tough job market, especially for a young man living on the streets. But 23-year-old Cory O'Malley found work five months ago with the California Conservation Corps (CCC). It's put a roof over his head, the sweat of hard labor on his back, and a certain twinkle in his eyes.
The twinkle comes from Desiree, his fiancée whom he met in the corps, and plans for a brighter future through job training and college. He credits the CCC with turning his life around.
"Even my parents noticed when I went down to see them at Christmas. They were like, 'You are so helpful.... You are changed, changed for the good,' " says Mr. O'Malley, covered with sweat and dirt from building forest trails north of San Francisco.
O'Malley epitomizes what the CCC was designed to do – turn around at-risk youth through work and training. But the CCC and similar programs in other cash-strapped states are now facing massive cuts. California's budget situation is so dire that the governor has proposed terminating the state program entirely.
The story is reversed at the federal level, where the incoming administration of Barack Obama has expressed interest in expanding job corps. Some of the debates over the CCC might soon echo in Washington – namely the desire to provide jobs and training in an economic crisis, versus questions of program efficiency and effectiveness.
---