Economic downturn frays America's safety net
Advocates for nonprofit aid agencies hope they'll get some help in the economic stimulus package.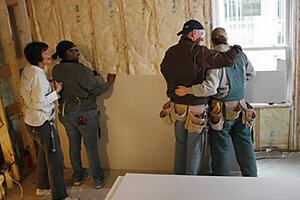 Gerald Herbert/AP
Is America's safety net in danger of unraveling? Many of the country's nonprofit organizations are on the front lines of the economic crisis, providing food and shelter, help in preventing foreclosures, job retraining. But they're being hit by the hard times, too.
As Congress digs in this week for negotiations on President Obama's $825 billion economic stimulus bill – with funds targeted to tax cuts, infrastructure, and state aid – people in and outside the nonprofit sector say it ought to be part of that package. Not only would this preserve jobs and shore up a crucial part of the US service-delivery network, they say, but would employ it most effectively in spurring an economic recovery.
"By including this sector we can take advantage of a huge network of institutions that work hard ... to improve the welfare of communities and individuals, that will spend the money quickly, that have the capacity to spread the dollars widely, and that in the absence of such help will need to shrink and thus become another drag on the economy," says Isabel Sawhill, senior fellow in economics at the Brookings Institution in Washington.
The US nonprofit sector employs 10 percent of the workforce – more than the auto and steel industries combined. The National Council of Nonprofits recently reported that revenues have "plummeted" as foundations, corporations, and state and local governments cut back on funding to nonprofits.
---