Colleges cope as endowments pinch
Budgets are cut as a new study reports an average loss of 23 percent in endowment value.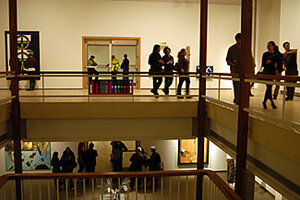 Courtesy of Amby Ghebretinsae/Rose Art Museum
College endowment funds, like other investments, took a huge hit this fall – resulting in billions of dollars less to spend on school budgets that cover everything from staff to building projects to student financial aid.
For colleges that rely on income from their endowments to fund a third or more of their operating expenses, cost-cutting measures, including layoffs and hiring freezes at some schools, are already under way.
Brandeis University in Waltham, Mass., is making a controversial move in response to losses: It announced plans Monday to close its art museum and sell the collection.
If there's any good news for higher education, it could be that only a small number of colleges rely heavily on endowments to keep themselves running – and that college endowment funds in general performed better in the bear market than did the major indexes.
Still, between July 1 and Nov. 30, 2008, endowments lost nearly 23 percent of their value, according to a survey of 435 colleges and universities for a report released Tuesday by the National Association of College and University Business Officers (NACUBO) in Washington.
"For a small number of colleges, endowments have a very significant impact," says Sandy Baum, a senior policy analyst at the College Board, a nonprofit association in New York. Among the majority of colleges, which have smaller endowments, "the silver lining to not having a large endowment is [they're] not very dependent on it."
---