Can energy efficiency brighten a dark economy?
Though part of the stimulus plan, it isn't likely to create lots of new jobs anytime soon. Still, efficiency can have other big payoffs.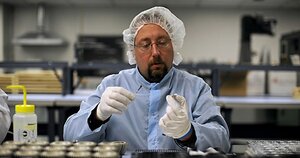 Ann Hermes/The Christian Science Monitor
Third in a three-part series. Click here for a look at the remarkably small renewable-energy stimulus or here for how efforts to build a speedy Internet may not be so speedy.
After a decade working in the lighting industry in Singapore and the United States, Govi Rao decided to strike out on his own. His idea? To turn LEDs, those funny glowing lights in video games and digital watches, into a mainstream, environmentally friendly alternative to traditional lighting.
In 2007, he bought four LED (light-emitting diode) manufacturers in quick succession and set up his new outfit, Lighting Science, with the help of California investors. But with the economy tumbling since, his timing looked awful.
So why is Mr. Rao smiling? Because he expects the energy-efficiency parts of the $819 billion stimulus package the House passed Wednesday to jump-start sales, which would bring down his costs and, he hopes, make Lighting Science a world leader in an emerging, energy-saving technology.
---