Drop in GDP reflects significant problems in the world economy
President Obama names new task force to strengthen the middle class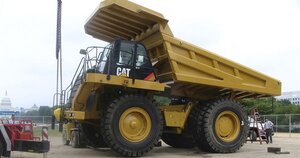 Smithsonian/AP
If you wonder why the machinery maker Caterpillar is laying off more than 20,000 of its workers, the answer comes through loud and clear in the latest report on America's gross domestic product.
Americans' production of goods and services fell at a 3.8 percent annual pace in the final quarter of 2008, and one of the steepest parts of the slide was in exports.
The global economic downturn means that Cat, which not many months ago was one of corporate America's big stories of industrial success, is selling a lot fewer excavators and pipe layers.
For years, US exports grew faster than GDP. But in the most recent quarter exports fell much faster than the rest of the economy, declining at a 20 percent annual pace.
It's a sign of how a recession that began with trouble in American mortgages has gone global, and now that global impact is bouncing back at the US.
"That's a huge decline in what has been … the fastest growing sector of our economy," says Ken Mayland, who heads ClearView Economics, a consulting firm near Cleveland. Any pullback from globalization and trade "threatens to dull and tarnish the overall world prospects for growth."
The GDP report, released by the Commerce Department on Friday, also unveiled sharp weakness by consumers at home – but the overall decline in economic activity was not as big as economists had forecast.
---