A spiritual approach to money
One group's formula for trying times: Live gratefully, spend less, buy justly, give more.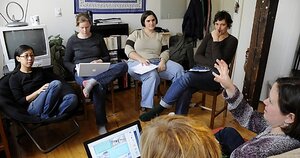 Mary Knox Merrill/Staff
In turbulent economic times, the watchwords are usually: Cut back. Live frugally. Hunker down and put money in safe places!
But here in Boston, small groups of churchgoers have been applying a different message to money management. During the past two years, they have studied what the Bible teaches about money and wealth, discussed their personal budgets, and taken concrete steps aimed at four commitments: "Living gratefully, spending less, buying justly, and giving more."
With gratitude as a foundational principle, the study groups follow a 12-session curriculum called "Lazarus at the Gate," referring to the challenging gospel story about a rich man who persistently ignored a beggar named Lazarus at his gate (Luke 16). They discuss passages from the Old or New Testaments that consider wealth as a blessing, a potential idol, a resource for meeting needs, and to be justly distributed.
"Right now there are a lot of opportunities to feel fear when thinking about money. But if you start from a place of gratitude and abundance, it radically changes your perspective," says Rachel Anderson, director of Boston Faith & Justice Network (BFJN), which coordinates the small-group program. "How we choose to spend our money – there are many justice issues there and room for change to steward Earth's resources better and alleviate poverty."
Many participants say the experience has been eye-opening and life-changing, as they explore the meaning of economic discipleship.
Each individual decides on ways to live more simply, such as not buying sodas or snacks during the week or selling a car and taking public transportation instead. At the final session, they commit some of the resources saved from new spending habits to charitable organizations they've researched and prioritized.
The first group to follow the Lazarus program met once a month for 12 months in 2007.
---