Ethical investing: The Obama effect
Industry-watchers consider the future of renewables, defense, and other sectors.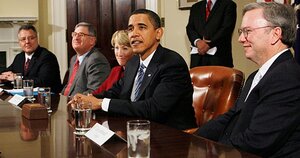 Courtesy of David Wood and Jack Robinson
A new administration means a new beginning – for voters and investors. Its new policies will change the economic landscape, creating new winners and losers among companies and industries. What should ethical investors look for? To find out, the Monitor's Laurent Belsie spoke recently with two experts: Jack Robinson, president of Winslow Management, which runs two green-investment mutual funds, and David Wood, director of the Institute for Responsible Investment at Boston College. Here is an edited version of their conversation. (The views expressed here are for informational purposes and do not represent an endorsement by The Christian Science Monitor.)
The economy looks dreary. Can investments thrive during the Obama administration?
Mr. Robinson: Unequivocally yes.... The way we view it is that in many instances many stocks have already seen their lows, particularly ones that are well managed and leaders in their industry and, from our point of view as green investors, the leaders in particular green areas, many of which are the focal point of the new administration. So we're seeing a lot of interest, a lot of excitement, and increasing volume in buying activity in a broad range of what we call green companies offering green solutions.
So things are looking up.
Robinson: The daily news continues to be very bad.... But again, markets anticipate better news.... That is what the market is saying – that this, too, will pass, probably later this year.
How much impact can a change in president have?
---