Some relief may be in sight for troubled US mortgages
As more than 5 million Americans fall behind on mortgages, banks signal a new willingness to reduce the principal.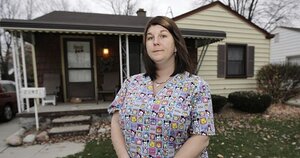 Paul Sancya/AP
Some homeowners who are having trouble paying the mortgage may be getting genuine relief.
An increasing number of lenders are now willing to do what they have long been reluctant to do: reduce the principal of a troubled loan. That shift is in part a recognition that home values have dropped sharply, foreclosure rates are soaring, and the political climate in Washington has shifted.
Advocates for borrowers hope the new modifications work better than prior efforts, which were not that generous: A government report found homeowners who modified their loans defaulted a second time at a very high rate last year.
The change in some lenders' willingness to forgive and forget won't come a moment too soon: Some 5 million to 6 million homeowners are now either behind on their mortgages or facing foreclosure. And over the next 12 months, the interest rates on $1 trillion in adjustable rate mortgages will be resetting at a time when the nation's unemployment rate is climbing – factors expected to put more homeowners under financial stress.
The economy is now at a point where people can expect to see more restructuring of mortgages, says Alan White, a professor at the Valparaiso School of Law in Indiana. "It's not too late to change course, and there are some indications we might be changing course."
For example, last week, Federal Reserve Chairman Ben Bernanke wrote Rep. Barney Frank, chair of the House Financial Services Committee, to inform him the nation's central bank has a new policy to avoid preventable foreclosures on the $47 billion in residential mortgages taken over from troubled financial institutions.
---