Economic stimulus plans now global phenomenon
At least 34 countries have plans, worth a total of $2.25 trillion.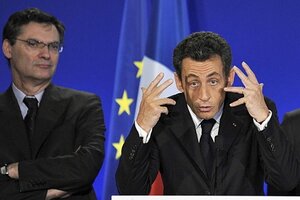 Gerard Cerles/Reuters
Economic stimulus packages have gone global.
While Congress is still arguing over the size and shape of the US package, at least 33 other nations have started programs that are far more ambitious than were planned even a month ago.
Many are oriented toward spending on roads and other transportation projects, such as China's plans to build or renovate airports, subways, and railroads. Others are providing tax cuts for consumers and businesses, as is the case in Canada and Brazil. Russia is trying to restructure the massive debt hanging over its corporations. Some countries, such as France, are aiming the stimulus at key industries, including Airbus, the giant aerospace manufacturer.
Without the multiple stimulus plans, which one investment bank, UBS, estimates to be equal to 2.8 percent of the world's gross domestic product, the global economy would be in far worse shape, economists suggest.
"Without the stimulus, there is a fair likelihood we would be in more than a 'Great Recession,' " says Sung Won Sohn, a professor of finance at California State University, Channel Islands. "It will keep us from dropping further."
---