Affordable housing hits a wall in time of rising need
New construction has stalled across the US, as the faltering economy chokes off a key source of funding.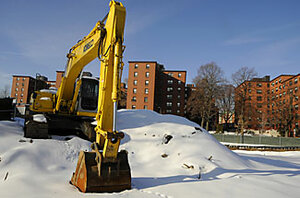 Mary Knox Merrill/Staff
Construction has ground to a halt at 270 Centre Street. Housing for low-income Bostonians was to be built here, helping to ease one of the tightest housing markets in America. Now an excavator sits idle in an empty lot covered with snow.
The holdup? Financing for the 30-unit project disappeared almost overnight – just as it has for hundreds of other efforts to supply new affordable rental housing across the US.
With the whole housing market in a deep freeze, it's perhaps not surprising that fewer low-income units – which require huge subsidies to get built even in flush times – are being constructed. But the slowdown is happening at a time when rising foreclosures are forcing more people into the rental market.
"For a long time we've had a shortage of decent affordable rental housing and … there are a lot more people who are renters now," says Buzz Roberts, a senior vice president at the Local Initiatives Support Corp., the largest community development group in the US. "We need supply."
The problem stems from the fact that the primary mechanism for expanding housing for the poor – tax credits – has collapsed. These credits, though little known, are responsible for financing as much as 70 percent of the cost of constructing new low-income housing.
"This is the only program that subsidized new affordable-housing production.... [I]t has become the only game in town," says Lan Deng, a professor of urban planning at the University of Michigan in Ann Arbor. "This provides a huge amount of money, and [reliance on tax credits is] getting bigger and bigger."
---