To minimize layoffs, employers cut worker hours
The practice is spreading as the US unemployment rate hits 7.6 percent.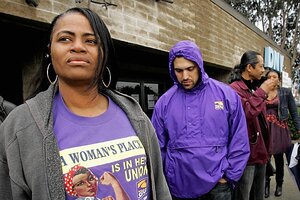 Nick Ut/AP
Faced with a downturn in orders, Hardinge Inc. is laying off workers, cutting executive salaries, and freezing hiring. But the machine toolmaker in Elmira, N.Y., is also doing something else – something that hasn't happened much in other downturns: Most of its workforce is now only getting paid for four workdays a week.
"The alternative was to lay off 20 more people," says Rick Simons, Hardinge's president. "This way, we get to keep those people employed, and they get to keep their benefits going."
From coffee shops to machine shops, employers are trying to mitigate the effects of the downturn by reducing employees' hours or overtime. California Gov. Arnold Schwarzenegger, for one, has ordered some 200,000 state workers to take a two-day furlough every month in an effort to close a $42 billion budget gap. Even some of the legislation in the economic stimulus package would reward states that use "innovative benefits" – such as giving unemployment insurance to workers who have had their hours reduced.
"Shrinking the hours everyone works helps reduce the extremes of how hard people are hit and maybe makes it a bit easier," says Nigel Gault, chief US economist at IHS Global Insight in Lexington, Mass. "It also may be more helpful for morale, perhaps."
---