China aims for its own Silicon Valley
Like the 'Asian tigers' before it, China is pushing into higher-end manufacturing and innovation.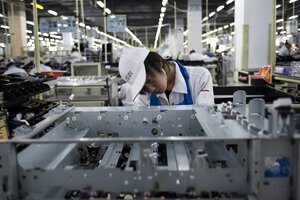 Andy Nelson/The Christian Science Monitor
The land of Nike shoes and plastic Christmas trees – and 40 percent of China's factories – has been battered by falling foreign demand. But that doesn't mean Guangdong Province is sitting idle. A pioneer in China's capitalist experiments, it's using the country's worst slowdown in seven years to push ahead with a complete economic makeover.
Like Japan and the Asian tigers before it, China is moving to loosen the grip of high-volume, low-end manufacturing on its economy – and transform itself into a corner-office innovator that can dream up an idea and build it to exacting specifications.
Instead of just assembling iPods, in other words, China wants to invent the next "it" music player.
In an unusual silver lining, the economic crisis may be helping: By shaking out low-profit companies, it's making room for more advanced ones.
The policy is known as "emptying the cage, removing the bird," says Mei Xinyu, a senior researcher at the Ministry of Commerce in Beijing. The slowdown "sped up the process."
China's Silicon Valley?
---