GOP centrists give Obama a majority – barely
This week's Senate vote on the economic stimulus package could set the pattern in Congress.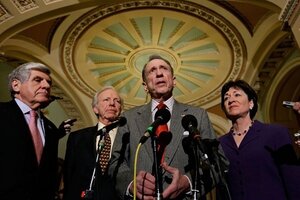 J. Scott Applewhite/AP
There are moments, even in highly polarized political times, when the center holds – and counts. This week's Senate vote on a massive economic recovery plan is one such moment.
Three Republican centrists – the remnant of a once-robust moderate wing of their party – are poised to give Democrats the last few votes they need to pass President Obama's $800 billion-plus stimulus plan in the Senate.
With a handful of GOP colleagues, they are the likely "swing votes" that could make or break legislation in the Congress for the first years of the Obama administration.
It's a bare working majority. But if the relationship develops, it allows the president to go forward largely without regard to majority conservative views in the GOP caucus.
Democrats shy of votes
Even with a majority of 58 in the Senate (with one recount pending), Democrats are shy of the 60 votes needed to move major legislation. That's why Republican moderates like Sens. Susan Collins and Olympia Snowe of Maine and Arlen Specter of Pennsylvania are so crucial to the new president's agenda.
But they exacted a price. In exchange for their support of the stimulus plan, they negotiated about $110 billion in spending cuts. As in the past, however, GOP mavericks also face the risk of a well-financed party rival in future primary elections.
---