Geithner's new bank bailout: Private investors hold the key
The Obama administration hopes federal dollars will serve as the catalyst to generate $1.5 trillion in private-sector investments.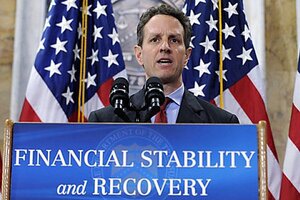 Larry Downing/Reuters
The Obama administration's new strategy to deal with troubled banks relies both on regulation and private-sector intervention in a bid to break a persistent credit logjam.
If the strategy, announced Tuesday by Treasury Secretary Timothy Geithner, succeeds, it would remove a major roadblock to economic recovery. If it fails, the result will be to dull the impact of President Obama's plan to create jobs by cutting taxes and boosting government spending, many economists say.
Key elements of the Obama banking plan include:
•A review, or "stress test," of major banks, which may expose the need for more capital if a bank is to survive. If government supplies the capital, it would come with strings attached, including the prospect that the government would take a sizable ownership stake.
•Incentives for the private sector to buy $500 billion or more of the shakiest loans or mortgage-related securities, so that they no longer raise uncertainty about the viability of banks.
•Use of at least $50 billion, of the government's remaining $350 billion rescue fund, to prevent home foreclosures.
•Expansion of a Federal Reserve program, backed by the Treasury, to stimulate as much as $1 trillion in private-sector lending.
Whether all this can end a nearly two-year financial crisis depends on something beyond the plan's details – how rapid and forceful the follow-through is.
"Enforceability and speed are really of the essence here," says Carmen Reinhart, a University of Maryland economist who has studied financial crises. Any delay means that an economic rebound "keeps getting pushed further and further away."
---