Need a college loan? Ask your friends online.
Websites are cropping up for peer lending, and at other sites, students can raise donations for college.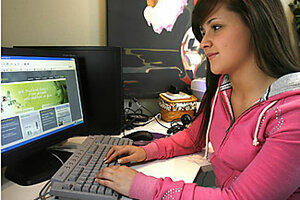 Tony Avelar/The Christian Science Monitor
Christina Christopher was two classes shy of an MBA when DeVry University told her she'd run out of financial aid. She had relied on federal loans, but she hit her limit. With no cosigner for a private loan, she was open to any option she could find.
Someone suggested the website GreenNote, which helps students appeal to family and friends for college loans. Within three weeks, she had $2,500 in loans.
She thought GreenNote's 2 percent fee was worth it because the loan process was formalized. "I couldn't just call up [friends] and say, 'Hey, look, this is what I need,' " Ms. Christopher says.
As higher-education costs rise and families feel the squeeze on traditional sources for college funding, students are on the hunt for innovative ways to pay their bills. In addition to loan websites like GreenNote, other sites are cropping up where students can raise donations for college.
Easy money? What's the catch? Some of the gifts come in exchange for earning good grades or for performing nonprofit volunteer work. And so far, the aura of potential on these sites is much greater than the actual money flow. In the near-term, at least, it appears unlikely that enough donors or lenders will come forward to meet even a fraction of the clamor for cash.
In fact, traffic to peer-lending sites may be driven, in part, by a lack of information about resources available to students and parents, financial-aid experts say. "There's in some cases a false sense that people are unable to get student loans. Usually, the story is not as bad as the headline," says Robert Shireman, executive director of the Project on Student Debt in Berkeley, Calif.
---