Fight against poverty unites Christian left and right
Liberal and conservative groups bridge some differences in new collaborative efforts to fight the problem.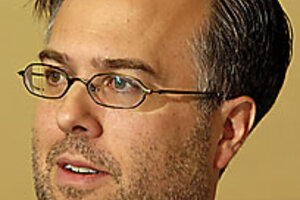 Andy Nelson/The Christian Science Monitor/File
Capitol Hill may not be embracing bipartisanship, but some in America's faith community are making strides in that direction. Christians from the right and the left have begun bridging political and religious differences to seek solutions to one of the nation's most persistent problems: poverty.
On Tuesday, a new bipartisan group called the Poverty Forum released a series of specific proposals aimed at reducing domestic poverty and keeping Americans hit by the economic crisis from joining the ranks of the poor. The group of 18 leaders – headed by the Rev. Jim Wallis, president of Sojourners, and Michael Gerson, President Bush's former speechwriter and policy adviser – has worked since November to develop concrete antipoverty policies they hope will gain widespread support.
"We wanted to transcend political differences and find 'what's right and what works,' as opposed to what's left or right, or what's liberal or conservative," says Mr. Wallis, a progressive Evangelical.
At the same time, Christian Churches Together (CCT), the most inclusive ecumenical organization ever formed in the US, reached agreement on a poverty initiative last month, which it presented to members of President Obama's Domestic Policy Council. "For a group as diverse as ours – left, right, middle – to reach a consensus on on-the-ground strategies is significant," says Richard Hamm, CCT's executive administrator.
---