Obama's big steps meet tepid response
Despite Obama's three new economic initiatives, world stock markets have slumped and the Dow hit a six-year low.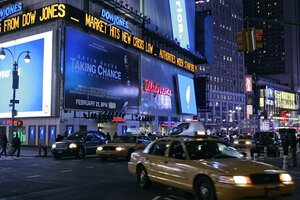 Frank Franklin II/AP
In many ways, it has been a remarkable political achievement: In one short month, President Obama has pushed a huge stimulus package through Congress, started on his version of a bank system bailout, and announced an ambitious plan to help struggling homeowners avoid foreclosure. All three prongs of his strategy for economic recovery are moving into place.
But the reaction hasn't exactly been euphoria on Wall Street – or Main Street, for that matter. Over the past four weeks, world stock markets have slumped, the Dow index has hit a six-year low, and there's no sign that US consumers are reopening their wallets and showering desperate retailers with dollars.
This muted response may simply reflect the fact that recovery will take time, and the downturn is deeper than many economists predicted. Or it may be due, in part, to worry that the pieces of Mr. Obama's strategy may not work together as advertised.
And part of it may be fear.
Things have been so bad for so long now, that all many Americans may be able to see is the tunnel.
"There's a tendency when the economy is sinking to ask the question ... 'when will it ever end?'" said Michael Mussa, senior fellow at the Peterson Institute for International Economics, in a Feb. 17 analysis of US economic prospects.
Slumps end, too
But recessions do end, said Mr. Mussa, even bad ones. This one will, too.
"Once the negative forces that are pounding down the economy abate, there is a natural tendency of the economy to recover," he said.
---