California, once a dream state, strives to get back its groove
As it has slid, the state's citizens have begun to focus on its core dysfunctions.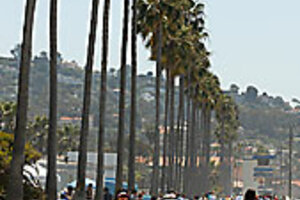 Mary Knox Merrill/Staff/file
Perhaps more than any state in America, California represents the end of the rainbow. Generations of fortune-seekers have seen it as a place of almost magical light and color where they could obtain, if not a big pot of gold, at least a good living in a climate where oleander bushes and innovation thrive equally as well.
That storied vision, fading for some time, is now in danger of disappearing altogether.
From drought to high taxes, from overcrowded classrooms to overflowing prisons, California confronts a perfect storm of troubles – one that elected officials here seem unable to navigate with any surety, as last week's herculean effort to simply produce an annual budget demonstrated to all of the nation.
But even as California's woes multiply, compounded by the broader recession, there are stirrings of reform in the land. Longtime observers of political and business trends here see a somnolent giant awakening and realizing that it is wrapped in something of a political straitjacket.
For one thing, state voters, who flocked to the polls in the last election, have begun to tackle election reforms, which many say are crucial if government is to function more effectively.
"Californians are finally sick of all this. There's never been such conversational currency with the intricacies of government by the average citizen," says Barbara O'Connor, director of the Institute for the Study of Politics and Media at California State University, Sacramento. Noting that California voters in November approved redistricting reform to help end political gridlock, Ms. O'Connor says, "The era of the disengaged voter is over."
---