Let's talk, with civility, about the stinker economy
How to fix it is a topic of rancorous debate. Some set out to improve the conversation.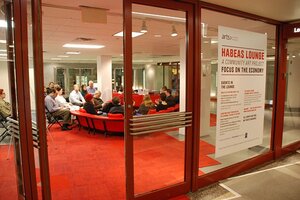 Courtesy of Linda Pollack
The former flower shop in New York's financial district is empty except for a red oval couch.
Artist Linda Pollack designed the couch so that people can sit, facing one another, to talk about the financial crisis. She calls this space the Habeas Lounge, and her hope is that it will become a salon for public discourse – a place where anyone can stop in to share their thoughts about the economy, join a reading group focused on Adam Smith's "The Wealth of Nations," or listen to lectures from guest experts (extra seating to be provided!).
Ms. Pollack's endeavor – part public service and part art project – is one small effort among many to try to move America past harsh polemics and partisan squabbling and toward a more civil debate in the public square.
There are some signs that more people would welcome that shift. One is Barack Obama's grass-roots campaign network that used the Internet to organize issue-oriented house parties and neighborly discussions about the highly charged issues of the day.
Another is the rising number of organizations – academic, Internet-based, community-oriented, and nonprofit – dedicated to helping Americans foster consensus about difficult issues of the day. They include groups like America Speaks and the National Issues Forums, as well as more than 100 public-policy institutes that have taken on the challenge of improving the way people talk to one another about difficult issues.
---