Recovery outlook: growth next year
Modest developments on several fronts have some experts foreseeing expansion in 2010.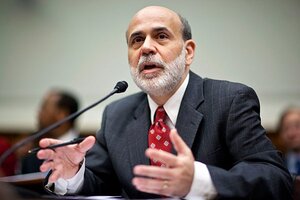 Joshua Roberts/Reuters
Finally, there is talk about a resurgence of the US economy.
The turnaround is not right around the corner. But many economists, including some policymakers, think a change from red to black ink could start to happen by year-end. If things begin clicking, next year could see a return to modest – maybe even close to normal – economic conditions.
"We're starting to see some prerecovery activity – something you see just before the economy comes hopping back to expansion," says Gregory Miller, chief economist at SunTrust Banks in Atlanta.
Before congressional panels on Tuesday and Wednesday, Federal Reserve chief Ben Bernanke raised the prospect of better times ahead. He said the Fed expected a "gradual" return to growth in the second half of this year and a "moderate expansion" next year. His testimony was almost like a hint of spring for the financial markets: Investors drove the Dow Jones Industrial Average up 236.16 points Tuesday.
The markets were also encouraged that Mr. Bernanke said he was not in favor of nationalizing the banks, which on Wednesday were undergoing a Fed stress test to see how they would perform in an even more difficult economic environment.
---