Homeowner aid plan will have to work fast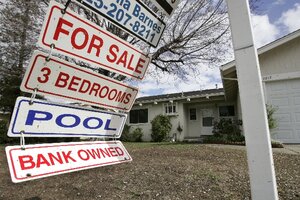 Paul Sakuma/AP
The Obama administration is -- finally -- laying out how it will help homeowners in distress.
The question now is whether it will bail out enough of them fast enough before real estate values sink again and threaten a new round of homeowners.
Wall Street cheers
The stock market gave the plan an initial favorable response, with the Dow soaring 149.82 points Wednesday, partly because of the release of the new plan.
But here's the rub: 8.3 million properties -- representing 1 in 5 homeowners with mortgages -- are already worth less than the mortgages on them, according to a new report by First American CoreLogic. If prices fall just 5 percent more, the company estimates, the ratio will rise to 1 in 4 homeowners.
That's a mind boggling number. It would represent more than 10 million properties, more than twice the number that the Obama administration's Home Affordable Modification Program aims to help.
Up to 4 million targeted
Under that plan, 3 million to 4 million Americans would receive lower mortgage interest rates and, if necessary, longer repayment periods and forgiveness of some of their principal.
---