Taking a page from Washington, cities craft their own stimulus
Unable to wait for federal help, they are finding ways to offer loans to local businesses.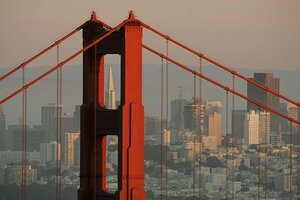 Robert Galbraith/Reuters
Business in the tiny northern California town of Lakeport is withering. Weekend pleasure boaters aren't coming to Clear Lake like they used to, and credit remains almost impossible to come by.
So Lakeport made a bold decision: Even in a time of budget deficits, it agreed to sell some of its own property and use the cash to fund loans to help save the stores of its gold rush-era downtown.
Like a handful of cities from New York to San Francisco, Lakeport is not waiting for a federal stimulus to see their businesses through the current crisis. The plans are often controversial and in some cases unprecedented, exposing the cities to the risks of defaulting businesses. But there is no blueprint for how cities should manage their own small-business recoveries, and the scope of the problem demands action.
"We're in a situation where we have to do what we can to try and pull ourselves up by our bootstraps and not stand by and do nothing," says Richard Knoll, director of the Lakeport's redevelopment agency.
The municipal relief efforts encompass a wide array of strategies:
– Several cities, including Boston, San Francisco, and Bayonne, N.J., are repurposing federal money to give microloans to businesses, to spur construction, or to attract industries.
---