Push for financial literacy spreads to schools
More students taught to avoid the dangers of credit-card debt.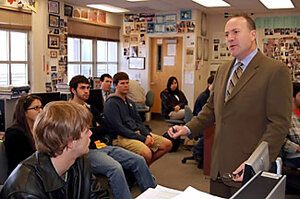 Amy Green
Create a budget and stick to it. Shop around for the best price. Pay off credit-card balances each month.
Roy Kobert set aside his work as a bankruptcy attorney one Friday morning to teach these and other personal-finance lessons at Boone High School. He starts by showing the 11 students of this senior-level business class a Saturday Night Live sketch in which Chris Parnell touts a book called, "Don't Buy Stuff You Can't Afford." He garners laughs then delves into the basics.
The students listen up. Three say they already have credit cards. One says his dad makes him read books by personal finance expert Suze Orman. All say most of their friends have no idea how to manage money.
"They spend stuff on little stuff," says Hillary Haskins, a 17-year-old senior. "It adds up."
Mr. Kobert knows many adults never will master what he's teaching. But with the economy spiraling, interest in financial literacy is growing. Nationwide, a movement is spreading, with the emphasis on children and young adults who advocates want to reach before credit-card companies do.
If creditors can coax them into debt at an early age, their future may be jeopardized. Young people risk losing out on jobs because more than 70 percent of employers check credit reports of applicants. Apartment complexes do, too, and so do graduate schools. Poor credit can jeopardize student loans.
---