Obama's New Deal is on a smaller scale
Its focus on smaller, shovel-ready projects precludes a grander vision.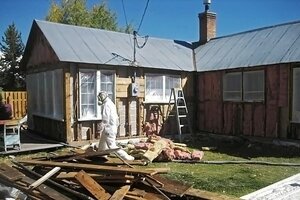 Courtesy of the Office for Energy Efficiency
Minutes after President Obama signed the $787 billion stimulus package on Feb. 17, grizzled hard hats started banging on a new bridge over the Osage River outside Tuscumbia, Mo., an $8.5 million project that will employ 45 workers for two years.
In Clinton, Mont., Kathryn Dougherty calls the $600,000 her town will receive to fix broken water pipes a "miracle."
Mr. Obama's recovery act has been hailed as a new New Deal to transform America. But there will be no Grand Coulee Dam or Golden Gate Bridge. Instead, there are thousands of small shovel-ready projects designed to bring transformation quickly – not through projects on an awesome scale, but rather in the mundane rumble of jackhammers in countless communities.
To critics, this is money wasted: The outlay of billions of dollars without deeper strategic planning about how the projects could be knitted together into some greater rebuilding of America. To others, however, the pressing need to save jobs now makes such delay impossible.
"What you need to do is get the money in people's hands quickly, and that really precludes taking the visionary approach and looking at big projects," says Jim Berard, communications director for the House Committee on Transportation and Infrastructure. "We found it's better and quicker to do the small projects that are just as necessary ... that aren't sexy or postcard material but are just as needed."
---