US and European paths to recovery diverge
Ahead of the G-20 economic summit, a divide grows over the balance of regulation and stimulus.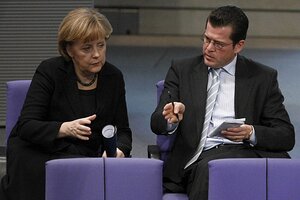 Fabrizio Bensch/Reuters
President Barack Obama, British Prime Minister Gordon Brown, and European leaders want the crucial April 2 London Group of 20 summit to end in a spirit of unity – a plan bold enough to check and reverse the global economic crisis.
Yet a week ahead of the G-20 meeting, a fundamental difference in US and European priorities is intensifying in the public arena. The divide over the balance of stimulus and regulation reflects differences in Euro-American cultures, institutions, leadership – and not least, in German Chancellor Angela Merkel's concern about keeping voters happy ahead of September polls.
Whether the sides can hammer out an agreement – and how final decisions will be presented – is the trillion-dollar question.
A cacophony of top voices is rising. European Central Bank chief Jean-Claude Trichet opposes stimulus, as does the German finance minister, the British central bank chief, the European president, and others.
Those who support greater cash infusions as a solution to the crisis include the White House, Britain's Mr. Brown, the heads of the IMF and World Bank, the Japanese prime minister, many nonofficial European economists, and Nobel Prize-winning columnist Paul Krugman.
---