GM installs new CEO, announces new incentives for consumers
To stay competitive with other automakers, it launches payment protections for buyers.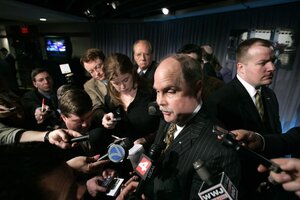 Carlos Osorio/AP
General Motor's new CEO, Frederick "Fritz" Henderson, says he gets President Obama's message: that the troubled automaker has a very short window – 60 days – to fix itself or go into bankruptcy.
"We need to go deeper, go harder, go faster," said Mr. Henderson in his first press conference as GM's CEO. "We need to reinvent General Motors in the next 60 days."
What this might mean is that General Motors will cut its operations further. Some plants that don't have enough business could be shut down or combined with other plants. Yet more layoffs are possible as well.
GM is also trying to sell some of its brands. Henderson had hoped to have Hummer sold by Tuesday but now says any sale will take longer. He has yet to make a decision on what to do about the Saturn operation.
At the same time, GM is scrambling to keep its marketing plans competitive with other automakers, announcing payment protections for buyers and a guarantee in the retail value of vehicles.
No matter what, Henderson says, the goal is to make GM profitable in any type of economic scenario.
As part of that effort, GM says it will try to "clean up" its balance sheet. Henderson says he agrees with the Obama administration that the company has too much debt. GM is already in the process of negotiating with its bondholders about taking a "haircut" on their holdings. The deadline of 60 days will give those negotiations an even greater sense of urgency.
---