Record tumble for home prices
Values fell 19 percent in the past year, new data shows. But the lower prices are also luring buyers back.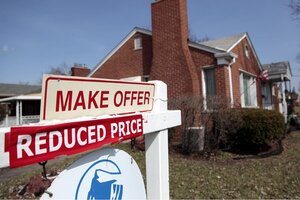 Rebecca Cook/Reuters
New housing data signals that the decline in US home prices isn't over, a trend that's adding to the financial stress on households and banks that have a stake in real estate.
Yet what's hard news for homeowners is good for potential home buyers. The downward adjustment is a necessary one, many economists say, to help the troubled housing market stabilize.
According to numbers released Thursday, a 20-city average of home prices fell 2.8 percent in January, faster than the 2.6 percent drop recorded in December. Overall, the 20-city Case-Shiller index reported by Standard & Poor's has fallen 19 percent in the past year and nearly 29 percent from its peak in 2006.
"The home price bubble has essentially vanished," Michael Darda, chief economist at MKM Partners, writes in an analysis of the Case-Shiller data.
He's optimistic that a combination of lower prices and low interest rates is starting to lure buyers back to the market – and will eventually work off the current large inventory of homes for sale.
"This is a powerful combination that we believe will create a bottom in the housing market in 2009," Mr. Darda predicts.
He reckons that once the for-sale inventory drops to a seven- or eight-month supply of homes – down from about 10 months today – an end to home-price declines will be near.
Already, home prices are at historic levels of affordability. The interest rate on a 30-year fixed rate has fallen below 5 percent, thanks in part to the Federal Reserve's entry into the mortgage market as a buyer of home-loan securities.
---