US car sales plunge in March
But automakers are encouraged by a recent increase in showroom traffic.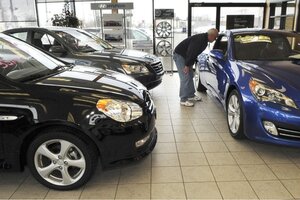 Lisa Poole/AP
Automakers insist they see signs of life in the marketplace. But March was another dismal month for US car sales, as consumers clung to their old vehicles in the face of America's economic woes.
General Motors sales were down 45 percent, compared with the same month a year ago. Ford slid 41 percent, while Chrysler was down 38 percent.
These results weren't exactly a surprise, considering that the Big Three are mired in a historic slump. But still, the poor showing might:
• Increase pressure on GM bondholders, as well as the United Auto Workers, to make concessions to keep GM out of bankruptcy.
• Give Chrysler a further shove toward an alliance with Fiat.
• Get Congress to seriously consider a government-sponsored "cash for clunkers" incentive program meant to break the industry's downward spiral.
"It seems like the conditions that have pulled down auto sales in the US are still with us in full force," says Jesse Toprak, a senior auto analyst at Edmunds.com.
Detroit is not alone in its dark tunnel. March sales at Toyota fell 39 percent, while Honda saw a 36 percent decline.
---