A gallon of gas on track to stay below $3 this spring
With crude oil stocks high and gasoline demand low, US drivers may get a reprieve from the customary spring spike in gasoline prices this year.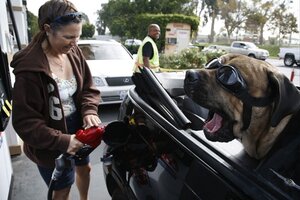 Jason Redmond/AP
Almost every year for the past 15, this is the week that gasoline prices begin their spring surge. But motorists may be spared this year, say energy analysts.
The reasons: A huge amount of crude oil is available for refiners, and gasoline demand remains relatively low, meaning refiners are spending more time playing dominoes than producing fuel.
"All the pieces are in place this year for it not to spike up," says Phil Flynn, director of research at Alaron Trading in Chicago.
If prices don't soar this spring, that will be a departure from the past two years, when gasoline prices spurted higher as consumers fumed. In 2007, with refineries running at maximum capacity, gasoline at the pump jumped almost 50 cents a gallon, landing at $3.25. Last year, crude oil peaked at $147 a barrel, and by July some consumers paid as much as $4.11 a gallon, according to the AAA.
"It hit lower- and middle-income consumers more than upper-income people," recalls Dennis Jacobe, chief economist at Gallup Inc. in Washington. "What you saw was that people had to reallocate their funds to gasoline and spend less on other things."
This spring, if gasoline prices don't spike, it will be a good thing for lower-and-middle income people, says Mr. Jacobe. "It helps to maintain spending. Whether it improves it is dubious," he says. Gasoline prices are currently about $2 a gallon, according to AAA, almost $1.30 lower than at this time last year.
---