Student debt and defaults surge
Federal student debt now tops $500 billion, leading some students to ask for debt forgiveness as a form of stimulus. Washington is wary.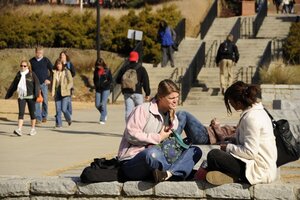 Mary Knox Merrill/Staff/File
[Editor's note: We got so much response from this story that we wrote about it here.]
When Robert Applebaum graduated from Fordham Law in 1998, he took the public-interest job near to his heart: assistant district attorney in Brooklyn, N.Y., at a salary of $36,000 – despite law-school debt of $75,000. He took five years of forbearance on the loan. Bad move. Mr. Applebaum's indebtedness today stands at $96,000, even though he fled the job he loved for the higher-paying private sector in 2003. "It's like having a mortgage, but without the house," he says of monthly payments just under $500. At that rate, the debt won't be fully paid for two decades.
Student debt in the United States has surged in recent decades, with outstanding federal student debt now topping $500 billion. The share of young adults carrying some educational debt has almost tripled since 1983, according to economist Ngina Chiteji.
At the same time, defaults are on the rise. Between 2006 and 2007, the proportion of borrowers who were supposed to enter repayment for the first time and who instead defaulted went up – from 5.2 percent to 6.9 percent, according to a Department of Education report last month. That percentage is the highest in more than a decade. And the 2008 and 2009 default rates are likely to be much higher.
---