More US insurance companies eye federal aid
Some of them, including Lincoln Financial, have bought small banks or thrifts in the hope of qualifying for government help.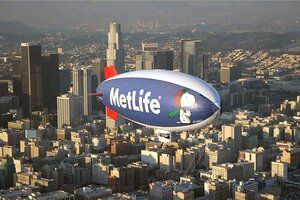 Business Wire
Some of America's biggest names in insurance are in line for a loan from Uncle Sam.
Last fall, many of them bought small banks or thrifts, in the hope this would qualify them to get some federal help. The insurance companies include names familiar to millions of Americans: the Prudential Financial, Hartford Financial, and Lincoln Financial. But hardly anyone has heard of the banks they bought.
Nonetheless, in the next several weeks, the government will announce if these banks – make that insurance companies – will receive government assistance.
In recent weeks, the insurance industry has been promoting its importance to the nation's financial well-being, noting that it touches millions of Americans by providing life and health insurance and annuities. The companies often portray themselves as prudent as grandparents, and in marketing, they use warm and fuzzy images such as Snoopy the cartoon figure or geographic locations such as the Rock of Gibraltar. Many of them have loans out to real estate developments all over Main Street.
"Collectively they touch everyone, and they are the linchpin for retirement for America," says Bob Litan, a senior fellow at the Brookings Institution in Washington. "It would shatter public confidence, at a time when public confidence is already pretty fragile, if the private version of Social Security were to fail."
---
Follow Stories Like This
Get the Monitor stories you care about delivered to your inbox.