Retail sales flag, as rising job losses make consumers wary
Spending in March slowed 1.1 percent, dashing hopes that a more confident US public would loosen household purse strings.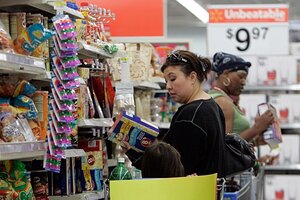 Reed Saxon/AP
The latest numbers on Americans' shopping habits suggest that diminishing pessimism, by itself, isn't allowing consumers to ramp up their spending.
Retail sales across the US fell in March by 1.1 percent compared with February's pace, according to numbers released Tuesday by the Commerce Department and Census Bureau.
The forecast among most economists had called for a small rise in retail sales, following gains in January and February.
The good news remains this: Bleak consumer sentiment has eased a bit in recent weeks, and the pace of the decline in March was not as steep as those seen in the final months of 2008. In fact, for the first quarter of 2009, overall personal consumption could be in positive territory.
But with the tone of the world economy generally set by American consumers, the March number indicates that strong headwinds are still hindering recovery.
"The biggest spending declines may be behind us," says Adam York, an economist at Wachovia Corp. in Charlotte, N.C. But weakness in the job market means consumers "are going to be very loath to make any kind of big-ticket purchases."
The stock market opened lower Tuesday following the retail report.
The numbers arrived after several surveys had indicated a calmer mood among consumers.
An index of "economic optimism," in the Investors Business Daily/TIPP poll, rose to 49 earlier this month – where a reading above 50 indicates a positive outlook for the economy.
A Gallup "consumer" mood survey has improved so that, while negative, the gauge is little-changed from a year ago.
---