First-time homebuyers jolt market into life
Low home prices and an array of incentives have sparked a surge of new buyers.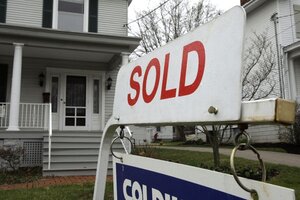 Al Behrman/AP
Ucilia Wang is eager to reclaim her kayak and camping gear from a friend's garage. There's simply no storage in her tiny one-bedroom apartment in Oakland, Calif. She wants a yard, too. Maybe even two bathrooms.
Ms. Wang, who is single and writes for the technology news website Greentech Media, is
set to join a surge of first-time homebuyers in California and across the country who are taking the plunge into the still-shaky housing market, exchanging rents for mortgages.
Lured by a combination of a drastic drop in home prices, expanded Federal Housing Administration (FHA)-insured loans, record-low interest rates, and an $8,000 federal tax credit, these newcomers are breathing new life into a beleaguered market. Their entry, many hope, will help slow the fall in home prices and sales.
First-time buyers bought more than half of the existing homes sold in February, according to the National Association of Realtors, and helped add to the 5.1 percent increase in sales from the month earlier. Existing home sales in February rose to 4.72 million units in the biggest monthly jump since July 2003.
Lured by low prices
Wang realizes there's some risk to buying now: prices could slide further; the economy could worsen. But, she says, it's a chance she's willing to take. Like others who have decided that now is the time to buy, she has been enticed into the market by the huge drop in prices around her neighborhood.
---