Geithner talks tough against Wall Street
Appearing before the Congressional Oversight Panel, Secretary of the Treasury Timothy Geithner faced populist anger over bailout terms.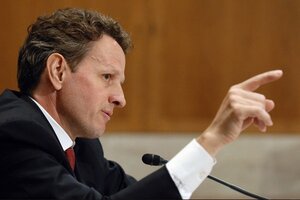 Jonathan Ernst/Reuters
Secretary of the Treasury Timothy Geithner has a message for angry taxpayers: Washington has been tougher on Wall Street than you think.
True, the US hasn't pushed out the chiefs of any big banks that have received government aid, as it did General Motors CEO Rick Wagoner. But it did oust the management of mortgage giants Fannie Mae and Freddie Mac, and insurer AIG, after the federal bailout of those firms, said Secretary Geithner on April 21.
And in general his job is to look out for the interests of the nation as a whole, not fat cat financiers, said Geithner in an appearance before a congressionally-appointed bailout oversight panel. It was perhaps his sharpest defense yet of the administration's often-criticized bank rescue effort.
"We are not a private investment firm. We are the government of the United States. When we act, we don't do it for the benefit of those banks," said Geithner.
Geithner in the hot seat
Geithner's appearance before the Congressional Oversight Panel was somewhat contentious. It was his first public grilling by the panel's five members, and their questions reflected much of the populist anger that has built up in recent months over bailout terms.
---