Geithner recovery plan too cautious?
Some leading economists say bank rescues should come with tougher conditions, and that the industry is short on capital to cover losses.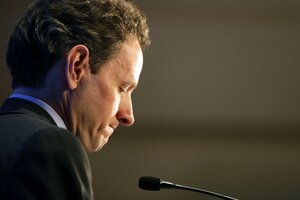 Pablo Martinez Monsivais/AP
The Obama administration's policy on the US financial crisis represents a high-stakes experiment: It will test the notion that a careful and cautious plan can also work forcefully and fast.
Treasury Secretary Timothy Geithner argues that this experiment is better than any alternative, but doubts surfaced this week among congressional lawmakers and leading economists as he testified about his plan on Capitol Hill.
An overriding Treasury objective is to avoid repeating the economic distress that followed the bankruptcy of Lehman Brothers last fall. Secretary Geithner's plan involves providing capital from taxpayers to at-risk banks, as well as using public-private partnerships to buy bad debts off their books.
This plan carries risks, however. The effort to patch up the banks this way could be very costly and slow – or it may falter for lack of funds, given the public mood of bailout fatigue.
"These elaborate schemes are time consuming, nontransparent, and may not work," says Pete Kyle, a finance expert at the University of Maryland in College Park.
"We want a fast [economic] recovery," Mr. Kyle says. But that's not likely to happen in an economy weighed down by bank losses, he says.
---