Job hunting? This week's unusual openings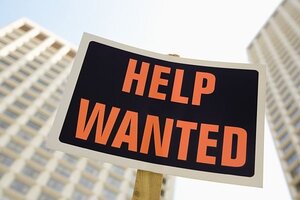 Newscom
Every week, Monitor staffers comb the job listings in search of interesting places to work.
The eight most intriguing jobs we found this week are in Greensboro, Vt.; Salt Lake City; Albion, N.Y.; Oakland, Calif.; Ridgeland, S.C.; Seattle; Palatka, Fla.; and Columbia, Md.
1. Circus tour wardrobe supervisor
Employer: Circus Smirkus
Wages/salary: Not listed
Details: Plan for the safe and efficient storage and transport of costumes while on tour; launder, dry, and iron all costumes on a daily basis or as needed. (Click here for more information.)
Location: Greensboro, Vt., (pop. 770; median family income $45,000) is headquarters for the circus, including the summer Big Top Tour. Circus Smirkus is a nonprofit group that trains 10- to 18-year-olds in the circus arts.
---