Fed releases 'stress-test' criteria
Bank stocks rose Friday, but some question whether the evaluation of the nation's major banks is tough enough.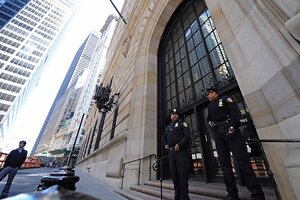 Louis Lanzano/AP
Regulators delivered a simple but important message Friday: Some of the biggest US banks don't have enough of a capital cushion to fulfill their "critical role" in the economy.
The Federal Reserve laid out that general point in a public report, and in private the Fed began acting on its assessment. It called top bankers into meetings Friday to tell them whether their particular institutions need a balance-sheet boost.
Some big banks are being asked to raise more capital. This would serve two key purposes in the current recession: It acts as a cushion against losses and it provides seed money for new loans.
If the banks that need capital can't raise it in the form of private equity, the investor will be the US Treasury.
In its public report, the Fed described the methods bank supervisors used in so-called "stress tests" to assess the health of the major banks.
The assessment is part of the Obama administration's efforts to pull the economy out of recession. The Treasury's Office of the Comptroller of the Currency, and the Federal Deposit Insurance Corp., worked alongside the Fed in conducting the tests.
"Given the heightened uncertainty around the future course of the US economy and potential losses in the banking system, supervisors believe it prudent for large bank holding companies to hold additional capital to provide a buffer," the Fed's report said.
Though the actual results of the tests won't be released until May 4, bank stocks rose Friday.
The assessment, as outlined in the report, involved:
---