While the US economy struggles, ten states are doing OK
They've avoided the worst of the housing bust. Oil and gas revenues have helped too.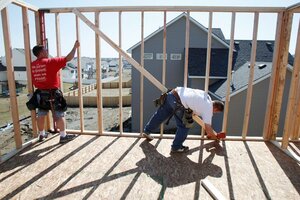 Charlie Neibergall/AP
The economies of 10 states are outperforming the US economy as a whole, according to a just-released study by the Nelson A. Rockefeller Institute of Government, an independent research group in Albany, NY, which analyzes state and local government.
The two biggest reasons, say the authors of the report, are that most of these states have economies that benefited through much of 2008 from high and rising oil and natural gas prices, and their real estate markets have not suffered the bust to the extent seen elsewhere.
"As for lessons for other states, they're not too easy to emulate," says Donald Boyd, co-author of the report. "Have a lot of oil, and don't run your real estate prices up into the stratosphere."
Mr. Boyd and other analysts say that the ten states (Alaska, Wyoming, Louisiana, Nebraska, Texas, Iowa, New Mexico, Utah, Oklahoma, and South Dakota) did not enjoy the real estate boom seen in places like California, Arizona, and Nevada – and therefore have not gone bust to the same degree.
---