GM to slash nearly half its dealerships to survive
It will also cut Pontiac, as well as more jobs. But if dealerships and bondholders don't agree to the changes, bankruptcy looms.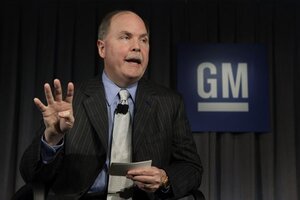 Paul Sancya/AP
A major restructuring plan announced Monday could make General Motors viable, but at a much smaller size and with no guarantee that the road ahead won't run through a messy bankruptcy process.
That's the difficult bind that America's leading carmaker is in. Once unmatched as a symbol of US industrial might, the century-old firm now plans to eliminate entire brand names like Pontiac. More factories will close. More workers will lose jobs.
And despite all this, some industry analysts say it will be very difficult for the company to avoid a court-managed bankruptcy that could make consumers wary of buying GM cars.
The key reasons: dealerships and debtholders.
GM's plan hinges on dramatically reducing the number of dealers nationwide and on getting the bondholders who own a large chunk of GM's debt to exchange their bonds for stock in the company – a money-losing swap. GM hopes to win support on both fronts in the next few weeks, but it can't force those things to happen. The dealerships, operating under state franchise laws, aren't directly controlled by General Motors.
"They can only downsize through bankruptcy," predicts Rebecca Lindland, an auto industry analyst at the consulting firm IHS Global Insight in Lexington, Mass. But "if a smaller but stronger company [emerges], they can spend the next 100 years developing from a stronger foundation."
The latest plan comes as the company is trying to persuade the Obama administration that it should receive more government loans to survive a historically severe industry slump. All carmakers are struggling, as vehicle sales have fallen nearly 40 percent this year compared with the same period a year ago.
---