Why bankruptcy might not be so bad for GM
Chrysler's experience suggests that the Chapter 11 process doesn't have to be lengthy, especially if the government has agreed to chip in billions of dollars in aid.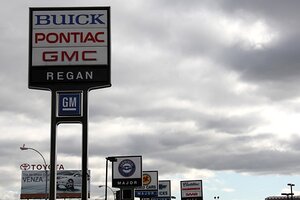 Newscom
A bankruptcy filing by General Motors appears to be just days away, but the road through court could end up being smoother and faster than the company initially feared.
This brighter view of bankruptcy is emerging even as GM has made last-ditch efforts to avoid filing to restructure under court protection.
On Wednesday, America's largest automaker announced that its efforts to reach a deal with creditors had failed, meaning the next stop is likely to be federal bankruptcy court, as soon as Monday.
For months, GM executives have warned that a bankruptcy could mean plunging vehicle sales and lengthy litigation that does long-run damage. One of the firm's big suppliers of parts, Delphi, has been mired in bankruptcy proceedings for several years now.
But now, the experience of another Detroit carmaker suggests that a giant industrial firm can have an expedited ride through the Chapter 11 process, especially if the government has agreed to chip in billions of dollars in aid.
Chrysler filed for bankruptcy at the end of April. Rather than bogging down with petitions from various creditors, the case may end with a restructured company emerging soon. Meanwhile, the court process hasn't proved ruinous for Chrysler's sales.
"The thing is moving along much more quickly than many people would have assumed," says Jeremy Anwyl, CEO of Edmunds.com, a provider of automotive information. "The government is playing a unique role. They are the only entity offering to put up additional financing [for carmakers] right now."
---
Follow Stories Like This
Get the Monitor stories you care about delivered to your inbox.