In GM's bankruptcy, lessons for whole US economy
Is the automaker, an icon of brawny American capitalism, among the first to confront an 'era of diminishing expectations'?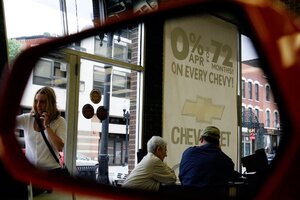 Nam Y. Huh/AP
The bankruptcy filing by General Motors on Monday marks a historic reversal for an iconic American corporation – and a cautionary tale for the whole US economy.
In its heyday in the 1950s and '60s, no company symbolized the brawn of American capitalism like GM. The company opened the door for legions of blue-collar workers to enjoy middle-class lifestyles, set the benchmark for modern management practices, and with its tailfins and V-8 engines defined automotive style.
Now, instead of symbolizing America's success, GM has become an emblem of some of the central challenges the nation faces in a new century. The factors paving its road to bankruptcy include rising healthcare costs, intensifying global competition, and making promises it couldn't afford to keep.
These are all problems that go beyond GM, affecting corporations and America's government balance sheet as well.
America is not necessarily in a period of permanent economic decline. But the financial climate has become tougher for corporations, the US Treasury, and households in ways that will last beyond the current recession. Some economists wonder aloud if the federal government is headed toward bankruptcy.
"At one point there was concern that GM's market power was so great that it was a virtual monopoly," says Jeremy Anwyl, chief executive of automotive information provider Edmunds.com. Now "the car companies are maybe the canary in the coalmine…. As a society we could be having to deal with an era of diminishing expectations."
An expensive rescue effort
---