How the recession is reshaping the American family
The downturn is forcing the man of the house to spend more time at home, altering roles everywhere from the laundry room to the child-care center.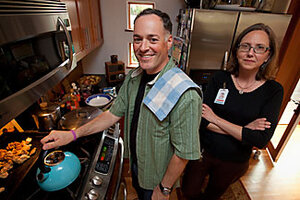 Fred Greaves/Special to The Christian Science Monitor
When Frank Benavides and Lynn Golder had their first baby last year – a cheerful little girl with wide, dark eyes – they agreed that it would be best if one of them could take care of her full time. But they argued, good-naturedly, over who should get the job.Four months later, the recession solved that dispute for them.
In October, Frank, a designer, was summoned into the conference room at his Manhattan architechtural firm. His bosses told him that, although they hated to do it, they were eliminating his position.
"Oh," he said. "OK."
On the commuter train back to Long Island, as the New York City skyline disappeared behind him, he tried to think through his family's finances. Although Lynn had taken four months of maternity leave, she still had her job as a lawyer at an insurance company. If he stayed home, they wouldn't have to pay for a nanny. Maybe, he thought, this was a chance to do what he had talked about – to start his own business from home and take care of their baby girl.
The next Monday, Frank said goodbye to Lynn as she left for her office; turned his attention to baby Elizabeth; and started his new, post-layoff schedule: diaper change, feeding, play, feeding, nap. After that, if he had the energy, he could work on his own architectural design business. "It's been wonderful," Frank says. "She [Elizabeth] is so perceptive, so fun. I'm happy to be doing it."
---