Fastest-growing cities seek to beat recession soonest
Cities in Texas, North Carolina, and California dominated the top 10 list of fastest-growing US cities in 2008.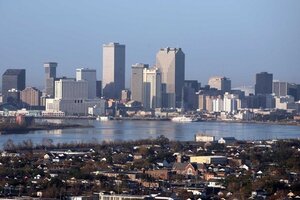 Charlie Varley/Sipa Press/FILE
Some of America's fastest-growing cities – from Round Rock, Texas, to Raleigh, N.C. – were the last to slip into the recession. Now they are hoping to harness their momentum and slingshot their way out of it.
"We can either sit back and wait for President Obama to send us a check, or we can take control of our own future," says Alan McGraw, mayor of Round Rock, the Austin suburb that was the second-fastest-growing US city between 2007 and 2008.
Cities in Texas, California, Arizona, Louisiana, and North Carolina dominated the ranks of fastest-growing cities, according to a Census Bureau report released Wednesday. New York City was the numerical winner, gaining 53,000 residents.
---
Follow Stories Like This
Get the Monitor stories you care about delivered to your inbox.