5 percent unemployment: still a decade away?
The economy is recovering, but forecasters suggest that America is headed for a third straight 'jobless recovery.'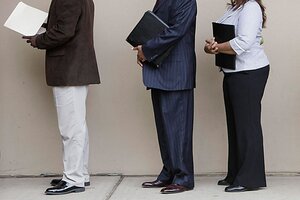 M. Spencer Green/AP
This could become the third time in a row that Americans struggle out of recession only to find themselves in a so-called "jobless recovery."
The phrase became popular back in the early 1990s, when a frigid post-recession job market paved the way for Bill Clinton to defeat incumbent George H. W. Bush in the 1992 presidential election.
Then the pattern was repeated after the 2001 recession, in a more pronounced way.
Despite a disappointing monthly jobs report Thursday, the good news is that economists generally expect the US economy to start growing again later this year. But the report, showing 9.5 percent unemployment in June, served as a reminder that the current environment for US workers is unusually tough.
"It will take a long time to bring that unemployment rate down," says Nigel Gault, an economist at IHS Global Insight in Lexington, Mass. "I think it will take years to bring it down to the sort of rate we got used to" in the late 1990s.
By years, he means perhaps a decade before we see a jobless rate of 5 percent. His forecast is that the unemployment rate will peak at 10.3 percent by the middle of next year, and then start to come down.
That outlook is a bit more pessimistic than the average of about 50 forecasters surveyed by Blue Chip Economic Indicators last month. Their consensus forecast is that joblessness will peak at 9.9 percent, edging down to 9.5 percent by the end of next year.
---