A better way to create jobs
Nurturing start-ups works even better than infrastructure projects.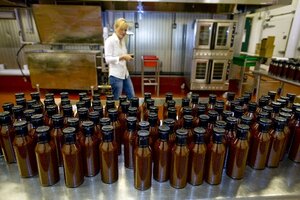 Ann Hermes / The Christian Science Monitor
Bridgeton, N.J. — Chef Hymie Grande stares intently as his bottles of barbecue sauce – the product of years of cooking, tasting, and tinkering – slide along a conveyor belt toward a roll of custom-made holographic labels. This is it, he says, the birth of his small-business dream.
"Nobody else can say they have a sauce that is just like mine," says Chef Grande (aka Jamie Faitelson), his face beaming. "This is the first time it's real."
The road to a business launch hasn't been easy for the former luxury-watch salesman. With his business too small for commercial bottlers, who demand huge minimum orders, and too ambitious to work out of his home, Mr. Faitelson was stuck. One company he approached wouldn't consider producing anything less than 35,000 bottles – a massive investment for a bootstrap entrepreneur.
Salvation came in the form of the Rutgers Food Innovation Center, a business incubator that nurtures young food entrepreneurs by giving them advice, a place to work, and, critically, access to a giant professional food production facility – complete with a labeling machine – to get their ideas off the ground.
"A small business like mine could never go to the big producers," Faitelson says. Without professional guidance, he adds, he's not sure he would be able to move forward. He now plans to enter his specialty sauce – which contains no high- fructose corn syrup, his chief selling point – at food shows and try to get noticed.
---